---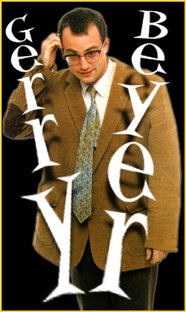 While eight-year-old Gerry was sitting through The Christmas Spectacular, there was only one thing that kept his spirits up through the barrage of unbearable theatrical kitsch. He knew of a future where the sun was shining, where truth, hard work and perseverance were rewarded. He knew of a place where justice was served to the just, all in the form of a Nathan's Famous Frankfurter. Only then would the pain end. Only then would he be released...
Gerry attended Syracuse University, where he majored in Exploitation and Propaganda (i.e., "Advertising"). Upon receiving his degree, he eagerly awaited to use his trained skills of persuasion. But not to make fat girls desire skinny figures. And not to promise skinny girls to fat guys through the miracle of beer. No "Yellow Hearts and Blue Diamonds." No "Less Filling, Tastes Great." No Calvin. No Klein. No way.
Gerry wanted to use his abilities for the common good. He wanted a reason for people to feel good about themselves without the need of purchase power.
He wanted an excuse to eat a hell of a lot of hot dogs.
To Gerry Beyer, this documentary is an exploration of self; a voyage into the hopes and fears of America. You can only understand the whole by looking at the relationship of its' parts. To understand a bicycle, you must look at the wheels. To understand a wall, you must look at each brick.
"To understand America, you must look at the hot dog."
---
Biographies
Chris Patak
co-producer, co-director
Gerry Beyer
co-director
Susannah Ludwig
co-producer
The Crew
Such nice young people.