---
One of advertising's most famous and memorable taglineswas penned by legendary adman, Ed McCabe, for Hebrew National Beef Franks.Going above and beyond FDA requirements, the kosher company takes greatcare to make a better-than-ordinary hot dog. Because as anyone at HebrewNational will tell you, "We answer to a higher authority."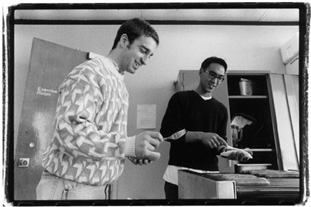 Chris and Footlong cameraman John Choi enjoying some frankswhile visiting Hebrew National headquarters. You can tell the dogs are freeby the perma-grin on Chris's face.


While the franks were complimentary, Chris and John spent five tense-filled minutes at the bargaining table negotiating for the rights to the mustard.



Hebrew National President, Steve Silk, showing off moves that would make New York Yankees' third base coach Willie Randolph jealous. (Willie, too, answers to a higher authority.)




Learn a little more about
advertising guru, Ed McCabe.
---