---
If you thought New Jersey was only good for toxic waste and outlet stores, well, you're mostly right. But Jersey also boasts some of the greatest hot dog stands in the nation. Seriously. Which is why Chris and Gerry -- headquartered in lovely Jersey City (motto: "Our air smells so you won't notice how bad our water tastes") -- couldn't resist visiting as many nearby wiener establishments as possible.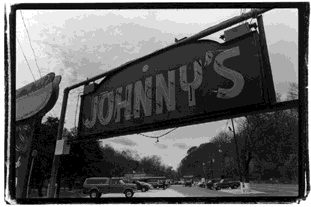 Welcome to Hot Dog Johnny's!
(Wait for page to fully download.)


Owner Patsy Fotopolus ponders the magic of Hot Dog Johnny's ... and wonders if Chris and Gerry are legit or just two guys looking to score some free hot dogs.



"Say, Gerry, do you think Patsy is going to score us some free hot dogs?"

---