---
Every year, Boston's Suffolk Downs plays host to the HOT DOG SAFARI. Nowhere else in America will you find numerous wiener companies donating thousands of hot dogs to be cooked and served by military personel to horse racing fans. Oh, and Captain Lou Albano makes a brief appearance at the event, too. Sounds like an NBC sweeps month Movie of the Week.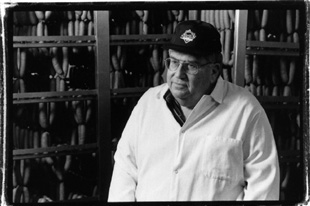 Eddie Andelman organizes the annual Hot DogSafari.
He also bears a striking resemblance to Tom Bosley.
Gerry Beyer in front of Suffolk Downs just seconds after his horse finished dead last. Or as Gerry likes to say of this photo, "the moment I realized Footlong's budget would have to be cut in half."
The KAYEM Hot Dog balloon outside Suffolk Downs. (More on KAYEM coming soon.)



---