---
Footlong's own Chris Patak has a special place in his heart for Rutt'sHut. Not only does the New Jersey restaurant/bar serve amazing hot dogs,it's the place where Chris's grandparents first met five decades ago.
Where better, then, for Fred and Margorie Patak to celebrate their50th wedding anniversary than inside one of the least likely places on theplanet to find your future mate, Rutt's Hut -- complete with beer, hot dogs,their grandson and, uh, Gerry.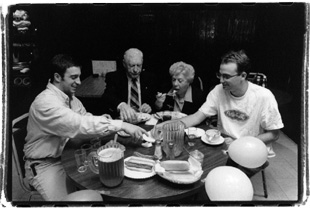 As Fred and Margorie enjoy their hot dogs,Chris and Gerry both reach for the bill. Oh, wait, no... of course not.They're just fighting over the mustard.

Reminiscing about a more innocent, happy time, long before MSNBC.






50 years together is worthy of a hearty round of applause and a nice cake.
(Having to be Chris's grandparents for 28 years is worthy of another pitcher of beer.)
---